Trouble acquiring GPS position, GPS signal issues
Your device may lose GPS signal under any of the following conditions:
Sometimes the app will display that it's trying to acquire your position. This usually doesn't take long, but you might experience difficulties given certain circumstances. Your device may not be able to locate you under any of the conditions below:
The device is in a building, tunnel or location where other solid objects obstruct signals from the GPS satellites. Since GPS signals don't penetrate solid objects, it takes longer for the signal to reach you. Therefore, any troubleshooting of GPS-related issues needs to be done outside, under the clear sky, without any buildings or solid objects in the way.
If you turn off your location services in device settings. This setting must always be enabled when using a GPS Navigation app.
The assisted location data (A-GPS) from mobile networks are overloaded, corrupt, or not updated. This issue, in particular, may cause the app to take longer when acquiring your position (which would otherwise be done immediately).
You are standing still. While standing still, the location is represented by a certain circle representing the accuracy of your current position. When you start moving, and the location services determine your direction, the system calculates a more accurate position based on this bearing (usually represented by speed, direction, and approximate location). This is why GPS is more accurate while on the move.
Below is a quick interactive guide to help you troubleshoot this kind of issue. Simply click the "No" button beneath it after performing the steps to proceed with additional troubleshooting steps:
1. Force close/Clear data & Reset to defaults
Restart your device and go to Android settings > Apps > Sygic Truck > Force stop and clear data. Then launch Sygic GPS Truck & Caravan Navigation and go to Settings > Other Settings > Reset to defaults
2. Reset A-GPS data
Please install the GPS Status app. Launch it and tap anywhere on the screen and then select the Tools icon > Manage A-GPS state > Reset.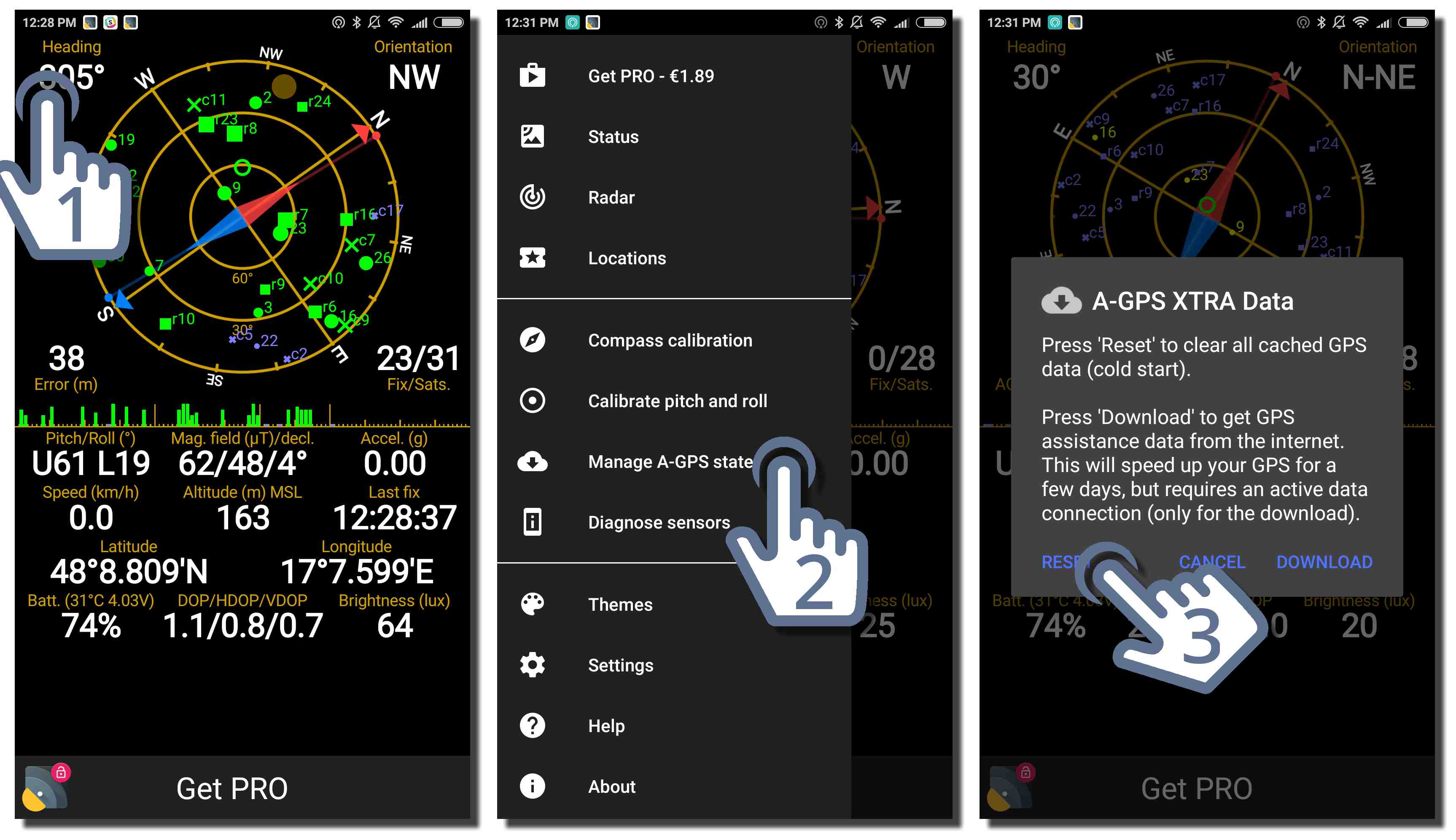 4. Consider hardware fault
You might want to consider contacting the seller or manufacturer of your mobile device for repair if the GPS Status & Toolbox app shows inaccurate signal as well
Thank you for using our interactive guide, we're happy to hear the issue is now resolved. Have a nice day and safe travels with your Sygic!
If neither of the steps in this interactive guide helped in resolving the issue, please contact us with the following data attached in the ticket form:
Screenshot from both the Sygic GPS Truck & Caravan Navigation where we can see the GPS signal is inaccurate.
Screenshot from the GPS Status app with the results of GPS signal reception.
This data is essential for further support.