Activating Premium+ purchased on Android
If you subscribed to Premium+ your purchase doesn't have a product code.
"Sign in" to activate
By following these steps, you can activate most of your purchases:
Launch Sygic on your device.
Go to the Menu ☰ in the top left corner of the screen.
Tap on "Sign in" in the top of the screen.
Select Already have an account?, then choose to "Log in" at the bottom of the screen.
Use the account, which you entered while making the purchase.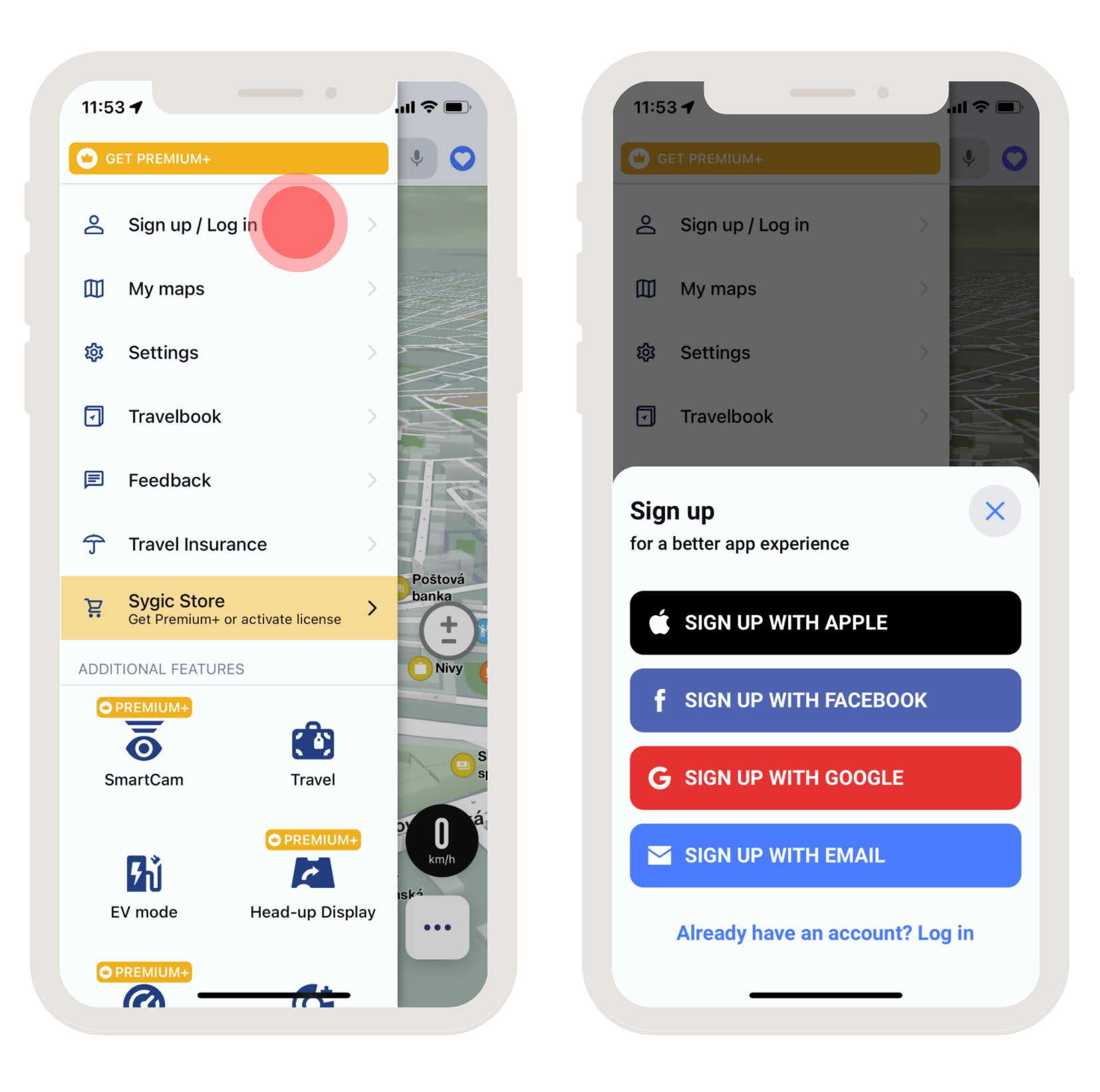 In case you don't remember your password, you can tap the "Forgot password" button or go to this link, to send yourself a password reset link.
We recommend loging in using your email and password.
Activating lifetime licenses
To activate lifetime licences you may have purchased in the past, go to Menu (☰) → Sygic Store → Activate license and use the method that fits your product:
Product code a 16-digit code was provided for most of the premium licenses, unless they were purchased using the Google Play payment method.
If you know your license had a product code but it was lost or forgotten, you can use the Get product code page to request it.
Make sure to enter the same email, which you have used while making the purchase. Please note: the page will not send you a product code if you purchased a license via Google Play or the Apple App Store.
Login logging in to the app with a Sygic / Facebook/ Google account if you have signed your products to the account, make sure to use the same account.
Register your Sygic account: Through the app Menu (☰) → Sign In → create a new account/ Or through our web
Restore Google Play if the purchase was made using Google Play (you got a receipt from Google), this is the option you use to activate it. You must be signed in to the Google Play Store with the same account as you used for the purchase, otherwise, the restore will fail.
You may check which llicenses activated by going to Menu → Sygic Store → All your licenses - if the license is listed here, then it has been successfully activated.
Not Working? Let us know!
If it did not activate the license, please use the option "Submit a request" at the bottom of the site through the form. And provide as much information as possible - the more info you provide, the faster we will be able to help you!
Please, provide this information:
Order ID:
Name of the purchased product:
Device code (You will find this in the Sygic app in Menu → Settings → Information → About):
Email or login method you use in the app:
¿No ha encontrado la respuesta a su pregunta?